Haist Gallery
Location & Contact:
Anchorage
,
AK
907-903-9997
Email Us
View our Website
View our Facebook page
Find Diann on Twitter
View our Google+ page
Description:
Artist Diann Haist in Anchorage, AK

ARTIST STATEMENT
Since 1969, when I began my career as full time artist, my work has been through some changes - oil paint was replaced by acrylics, realism was abandoned for musically inspired abstractions. In 1989 however, I realized my first love was truly oil painting in the impressionist style - it just seemed natural. Plein air painting once again became my addiction, as well as painting interesting people; people with a story to tell.
I am not afraid of colour and my brushwork has been described as bold and confident - this is what I want viewers of my work to see, that there is some passion there, no apologies, nothing timid. What I strive for is portraying the life force of my subjects as well as my work being aesthetically pleasing to the eye.
In this way, do I truly enjoy exploring my life as an artist.
Affectionately,
Diann Haist
"When I am in the act of painting, there is no thought, nor time; there is a sense of exquisite freedom. It's always hard to say what inspires me to paint a certain subject, other than it resonates with me in a way which cannot be ignored. Do I paint for myself then? At first yes, but art is a communication after all, and the viewers of my work are the recipients of that communication - hopefully they will like what I have to say."

"A person viewing a painting should see something new which he has not taken the time to see before, or something which creates an emotional impact in him. This is Art." Diann Haist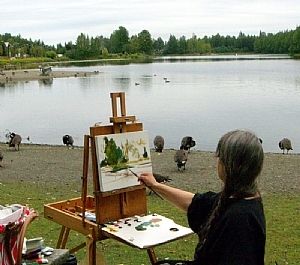 Diann Haist plein air painting in Alaska Photo: DKeelan

Biography
The eldest of three children, Diann Haist was born and raised in a small town in southern Ontario, Canada. Haist enjoyed an early exposure to fine art through her meetings with some latter members of the legendary Canadian Group of Seven artists, who gave her painting tips as she followed them around while they were plein air painting. She held her first solo exhibition at the age of thirteen, selling three out of ten paintings. Haist continued to exhibit and accept commissions until her college years, when she pursued a classical art education. Her studies in Canada under the tutelage of Audrey Garwood and Doris McCarthy helped instill an enthusiasm for drawing and painting with passion.
After her formal training, Haist kept up her interest in Life Drawing, and began teaching in the mid 1970s, always emphasizing the importance of drawing from life as a strong foundation upon which to build a work of art.
Haist's work typically employs the combined techniques of the Impressionist Masters and the Old Masters. Being classically oriented, she begins each figurative piece as an abstract, often using a toned canvas, employing Rembrandt's technique of wiping out the masses of her subject with a rag as the base upon which to build. Her figurative works are also based on a solid grounding of drawing from life, as it is her belief that the ability to draw well, to observe structure and balance, is the basis of creating a convincing work of art.
Haist approaches her landscape paintings differently from the figurative works. She lays down broad areas of color and allows the masses of light to guide her to her subject and to the liveliness and depth that have become her trademark. Each layer applied allows the brilliance of the previous layer to come through, similar to the working methods of the French Impressionists such as Monet.
Over her career of forty-plus years, Diann Haist has had many successful solo exhibitions which have garnered her an enviable core of collectors. Haist's paintings are part of numerous major corporate and prestigious private collections in Canada, the United States, Japan, and Argentina as well as throughout Europe. Her versatility as an artist allows her to explore a variety of themes: her oils and acrylics, either on canvas or paper, display a bold brush stroke and confident technique, as well as the ability to produce strong watercolour and pastel paintings.
Diann Haist's work is known internationally in over 40 countries through Fine Art posters published by Posters International in Canada. Forty-nine of her images to date have been published and several consistently are on best seller lists. Limited Edition Fine Art giclee's of selected works by Diann Haist are also available through Bootstrap Publishing of Anchorage, Alaska.
Diann and husband Tom currently reside in Alaska where the big landscape and its Indigenous People are a never-ending source of inspiration.


Diann Haist at Portage, Alaska


The inspiration for my art comes from a combination of extensive travels, with much outdoor painting and sketching from life, as well as a passion for music.

I have learned much from my favorite artists, Degas, Monet, Emile Gruppe, Edgar Payne, Nicolai Fechin, Lawren Harris, William Merritt Chase, John Singer Sargent, Wassily Kandinsky, Anders Zorn, as well as some 19th Century Scandinavian Impressionists"
Hours:
Monday: By Appointment Only
Tuesday: By Appointment Only
Wednesday: By Appointment Only
Thursday: By Appointment Only
Friday: By Appointment Only
Saturday: By Appointment Only
Sunday: By Appointment Only
Payment Options:
Cash, Check, PayPal, Visa, MasterCard, Discover, American Express
Report incorrect information