Celtic Treasures
Location & Contact:
4240 Old Seward Hwy. #2
Anchorage
,
AK
99503
907-333-2358
Email Us
View our Website
View our Facebook page
Description:
Welcome to Celtic Treasures!
Beautify your home with tapestries, stained glass, wall art, picture frames with great knotwork designs and gorgeous stained glass lamps! We also have incredible Castle Arch Pottery from Kilkenny, Ireland that will look gorgeous on your table and in your china hutch!
As always Celtic Treasures carries a wonderful variety of Celtic jewelry and giftware, along with bright and beautiful tartan purses and wallets, sweaters for guys and gals, t-shirts and hoodies and Guinness gear for the fans of St. James Gate apparel! We have beautiful sweaters, wraps, scarves, capes and ruanas with stunning Celtic designs that make very special gifts that can't be found in the "Big Box" stores!
Stop by the shop today for a cup of tea and take a look at what we have that will help you enhance your home or find that perfect gift for yourself or a special someone!
Celtic Treasures, LLC appreciates your support of small business in your community!
Jewelry | Apparel | Gifts | Imported Foods / Teas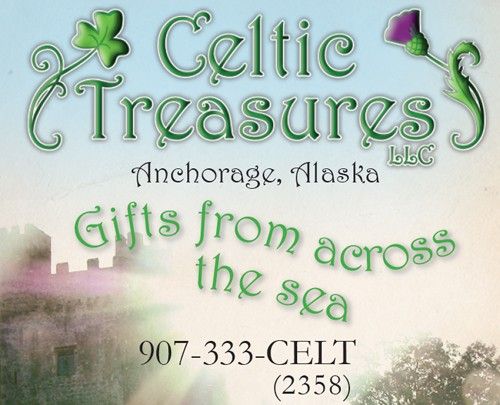 About US
Celtic Treasures is a friendly, welcoming spot in the Anchorage community to buy a nice gift that you cant find elsewhere in Alaska! We are in mid-town Anchorage, Alaska on the corner of Old Seward Hwy and Tudor Road in the City Center Mall.
Once you step through the door of our shop, the mall experience is forgotten. Our goal has always been to transport our customers to another place, another time and be a place where you can relax and come home to. Many of our customers like to relax in our comfy wing back chairs or on our love seat to have a cup of tea and unwind from the stresses of their day.
Local organizations such as the
Irish Club of Alaska
have events at the shops such as our monthly song session (last Saturday of the month from 4pm 6pm) and the Alaska Scottish Clubs Alaska Men in Kilts calendar contest and calendar sales to benefit the Alaska Scottish Highland Games. We have information and tickets to many of the Celtic events in Anchorage.
Our focus is on gifts with a Celtic flair. We have a large variety of merchandise to fit every budget and are always happy to special order (most with no additional charge) merchandise that we might not have in stock. From Celtic jewelry made in Ireland, Scotland or other Celtic countries, to wall art, kilts, sweaters, pottery and tapestries you are sure to find just the right thing at Celtic Treasures.
We do our best to answer questions about travel to Ireland and Scotland and are affiliated with the CIE Travel company and we can provide information on tours of the Celtic countries (and several other European destinations) for eager travelers. We have done a couple of custom Celtic Treasures Tours of Ireland and you may peruse our travel page and gallery for photos showing us having a great time with our customers/friends and family while visiting Ireland.
We are always eager to make you a cup of tea with a smile and a chat while you are shopping. We are long time Alaskans with heritage in Ireland, Scotland and Wales.
Please enjoy our website, stop into the shop for a cup of tea or contact us by email if we can assist you in any way.
Slainte,
Lisa Caress-Beu
Owner
Hours:
Monday: 11:00 - 6pm
Tuesday: 11:00 - 6pm
Wednesday: 11:00 - 6pm
Thursday: 11:00 - 6pm
Friday: 11:00 - 6pm
Saturday: 11:30am - 6pm
Sunday: Closed
Payment Options:
Cash, Visa, MasterCard
Report incorrect information