Lewis & Lewis Computer Store
Location & Contact:
405 E Fireweed Ln
Anchorage
,
AK
99503
SALES: 907-743-1600 | SERVICE: 907-743-1640
Email Us
View our Website
View our Facebook page
Description:
Lewis & Lewis Computer Store
Office, printing and computer specialists
Lewis & Lewis in Anchorage, AK, is here to help with all your office printer and supply needs. Give us a call and learn more about our extensive product lineup from our knowledgeable sales staff. They'll help guide you in the purchase of the right product for your particular needs.
Thanks again,
Philip Fontana President
DesignJet Printers | Supplies | Service and Repair | Shop Online
Why us?
Lewis & Lewis is your resource for HP, Lexmark, and Xerox printers, supplies, and service. Our expertise has been growing for over 25 years! Our team-based approach ensures your goals and objectives are met for your printing and supply needs.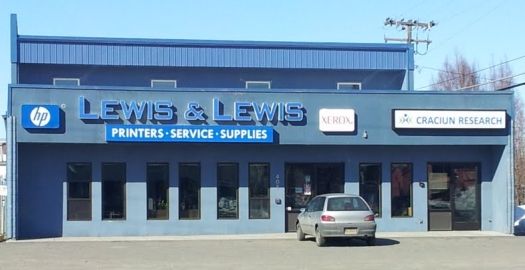 ABOUT US
Lewis & Lewis Computer Store was founded in a Fairview house in the early 1980s with a single product, an HP scientific calculator. Our company began selling the HP 41C calculator as a compliment to surveying equipment to many of Anchorages engineers and surveyors.
After HP introduced the worlds first laser printer in 1984, Lewis & Lewis Computer Store added its second product line and entered the emerging computer retail market.
Since then Lewis & Lewis Computer Store has sold over $100 million of computers, printers, supplies, and accessories. To cater to the large numbers of oil related, engineering, architectural, and surveying companies, Lewis & Lewis Computer Store began specializing in large-format HP DesignJet printers. In the last few years our company has added to following specialties to their business: toner and ink, multi-function printer devices, printers, large-format printers, media, computers, repair services, and network design support and monitoring.
We invite you to come in to our store and learn about the products and expertise that Lewis and Lewis offers.
Hours:
Monday: 8:00am – 5:00pm
Tuesday: 8:00am – 5:00pm
Wednesday: 8:00am – 5:00pm
Thursday: 8:00am – 5:00pm
Friday: 8:00am – 5:00pm
Saturday: Closed
Sunday: Closed
Payment Options:
Cash, Visa, MasterCard
Report incorrect information