Barnes & Noble Booksellers
Location & Contact:
200 E. Northern Lights Blvd
Anchorage
,
AK
907-279-7323
View our Website
View our Facebook page
View our Twitter page
Check out B&N Anchorage Event page here.
Description:
Barnes & Noble Booksellers
Barnes & Noble, Inc. (NYSE:BKS) is a Fortune 500 company, the nation's largest retail bookseller, and the leading retailer of content, digital media and educational products. The company operates 663 Barnes & Noble bookstores in 50 states, and one of the Web's largest e-commerce sites, BN.com (www.bn.com). Its NOOK Media LLC subsidiary is a leader in the emerging digital reading and digital education markets. The NOOK digital business offers award-winning NOOK® products and an expansive collection of digital reading and entertainment content through the NOOK Store® (www.nook.com), while Barnes & Noble College Booksellers, LLC operates 696 bookstores serving over 4.6 million students and faculty members at colleges and universities across the United States.
General information on Barnes & Noble, Inc. can be obtained via the Internet by visiting the company's corporate website: www.barnesandnobleinc.com.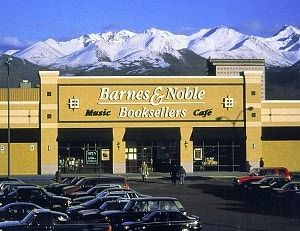 Products:
Books, NOOK Tablet™, NOOK Color™, NOOK Simple Touch™, NOOK Books™, NOOK Apps, Free NOOK Reading Apps, new & used textbooks, music, movies & TV on DVD, toys & games, calendars, PC & video games, gift cards, and much more!
Barnes & Noble Café
Hours:
Monday: 9:00AM-11:00PM
Tuesday: 9:00AM-11:00PM
Wednesday: 9:00AM-11:00PM
Thursday: 9:00AM-11:00PM
Friday: 9:00AM-11:00PM
Saturday: 9:00AM-11:00PM
Sunday: 9:00AM-11:00PM
Report incorrect information