Oomingmak - Musk Ox Producer's Co-Operative
Location & Contact:
604 H St
Anchorage
,
AK
99501
907-272-9225
Email Us
Visit our website
View our Facebook page
View our Twitter page
View our tripadvisor reviews
Description:
Oomingmak
Musk Ox Producers' Co-operative
The Alaskan co-operative that has brought exquisite Qiviut items to you as a unique northern gift since 1969. Qiviut (pronounced "kiv-ee-ute"), the downy-soft underwool from the Arctic musk ox, is shed naturally each year during the spring months. Eight times warmer than wool and extraordinarily lightweight, Qiviut is one of the finest natural fibers known to man. The Co-Operative is owned by approximately 250 Native Alaskan women from remote coastal villages of Alaska who knit each item by hand. Each village has a signature pattern derived from traditional aspects of village life and the Eskimo culture; they may come from an ancient artifact or a beadwork design.
Video Provided by
Alaska.org
As featured on
Alaska.org
- The Alaska Vacations Site
All of our items are 100% Qiviut and in the natural color. The caps and scarves made by the knitters are as comfortable to wear on cool days in a warm climate as they are in chilly weather. Unlike wool, Qiviut is not scratchy and will not shrink in any temperature of water. It can be hand-washed in any mild detergent and will last for many years.
The newer line of Tundra and Snow, introduced in 1999, is 80% Qiviut and 20% Silk, blended together. Some of the yarn is in the natural color and some in a bleached off white, so that the beautiful patterns are knitted making a contrast between the two. The Tundra and Snow Caps and Headbands are practical for any sports activity, yet beautiful to wear to a special event.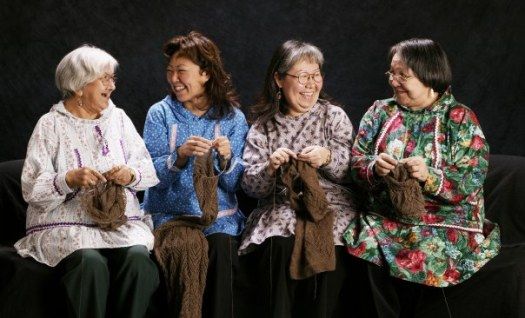 When knitting is received at the Co-Op headquarters by mail from the remote villages or in person by the visiting member, it is checked over for quality and entered into inventory. The member is paid for her work, and the knitted items are washed, blocked, labeled and packaged, ready for our customers. Oomingmak visitors come by the little brown house with the musk ox mural on the corner of 6th and H Street from all over the world. Many of our customers find us on the web or through the printed media and choose to call our toll free line (888)360-9665.
If you are in Anchorage, call our local number 272-9225 or stop by our downtown shop at 604 H Street to see and feel our quality Alaskan hand made products.
PAYMENT OPTIONS:
Checks, Cash, Money Orders, Travelers Checks, MC, Visa, AE, Discover, JCB, and Debit
Hours:
Monday: Summer (May-Sept) 9am-8pm | Winter (Sept-May) 10am-6pm
Tuesday: Summer (May-Sept) 9am-8pm | Winter (Sept-May) 10am-6pm
Wednesday: Summer (May-Sept) 9am-8pm | Winter (Sept-May) 10am-6pm
Thursday: Summer (May-Sept) 9am-8pm | Winter (Sept-May) 10am-6pm
Friday: Summer (May-Sept) 9am-8pm | Winter (Sept-May) 10am-6pm
Saturday: Summer (May-Sept) 10am-6pm | Winter (Sept-May) 10am-6pm
Sunday: Summer (May-Sept) 10am-6pm | Winter (Sept-May) Closed
Report incorrect information