Eva's CupCakery
Location & Contact:
3048 Mountain View Drive, Suite 116
Anchorage
,
AK
99501
907-929-1246
Email Us
View our Website
View our Menu
View our Facebook page
Description:
Eva's CupCakery ~ Baking Sweet Memories
Designing Cupcakes For All Special Occasions

At Eva's CupCakery, cupcakes are our specialty and we make our delicious garment little cake in a variety of flavors. Our Cupcakes are baked from scratch daily using the freshest natural ingredients available to us.

Cupcakes are timeless treats enjoyed by all kids, adults, and the young at heart. These simple pleasures are perfect for all occasions, birthdays, baby showers, bridal showers, weddings, meetings, receptions, and any other special celebration.

Why not let Eva's CupCakery "Bake Sweet Memories" for your next occasion?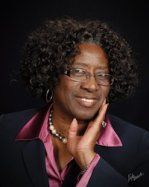 Hello I am Eva Perry, born in Alabama. I guess you can call me a Southern Girl. I have many wonderful memories of growing up in the South cooking with my mother. I always had a passion for baking. Our kitchen was the gathering place for friends and family who came to visit and enjoy delicious cakes baked by my mother and I. One of my fondest baking memories as a little girl is when I got an Easy Bake Oven for Christmas. With my oven I baked a little chocolate cake, and one of my older cousins ate the whole cake and wanted more. I knew then I had something going for me. As I watched him eat my cake a feeling of accomplishment came over me even back then. Today it's still a wonderful feeling when I watch someone indulge in my yummy cupcakes and know that they are being enjoyed.

I was a High School Teacher, served in the military and was a Program Director, none of the jobs or careers brought the personal satisfaction as when I'm in the kitchen baking up and decorating some sweets especially Cupcakes. One great event is when I met and married my husband Sylvester Perry. When he realized my dream and gave me his support Eva's CupCakery was born. It is with this combined passion and all of our life's experiences that we provide great Sweets to you (cupcakes) the community.
Hours:
Monday: 12:00 pm - 7:00 pm
Tuesday: 11:00 am - 7:00 pm
Wednesday: 11:00 am - 7:00 pm
Thursday: 11:00 am - 7:00 pm
Friday: 11:00 am - 7:00 pm
Saturday: 11:00 am - 7:00 pm
Sunday: Closed
Type of Meals Served:
Cupcakes


~SOME OF OUR FAVORITES~


Southern Classic Red Velvet Cupcake with Cream Cheese Frosting

German Chocolate Cupcake with Classic Coconut-Pecan Frosting

Sweet Potato Cupcake filled with real Sweet Potatoes topped With White Chocolate Butter Cream Frosting and roasted pecans

Lemon Dream Cupcake a Lemon Cupcake filled with a tangy lemon Curd topped with a Lemon Butter Cream and sprinkled with Sweet Coconut

Dark Chocolate Cupcake, Rich Dark Chocolate Cupcake filled with Raspberry Filling and topped with a Chocolate Butter Cream Frosting and drizzled with a Chocolate Syrup

Southern Tradition Hummingbird Cupcake, a Spice Cake baked with banana, coconut, pineapple and nuts, frosted with Vanilla Butter Cream and rolled in toasted chopped pecans

Boston Cream Pie Cupcake, a Tender Cake filled with a sweet pastry cream and crowned with a Rich Chocolate Ganache

~We have a list of Gluten Free and Vegan Cupcakes~



Price Range:
$ 10 or less per meal
Payment Options:
Cash, Visa, MasterCard
Reservations:
Accepted
Report incorrect information