49th State Brewing Co. Anchorage
Location & Contact:
717 W 3rd Avenue
Anchorage
,
AK
99501
907-277-7727
Email Us
View our Website
View our LUNCH MENU
View our Facebook page
View our Twitter page
View our Yelp
Description:
Goodbye Snow Goose...
Hello 49th State Brewing Company
Located at 717 W 3rd Avenue,
Anchorage, Alaska 99501
NEW, FULLY COMPLETED MAJOR REMODEL - NEW HOURS!
COME AND SEE US!
"Fresh Brewed Beer from the Last Frontier"
"A place where locals dine and tourists make memories."
At the 49th State - Anchorage, the cultural layers of Alaska unfold around you. Delve into the long tradition of brewing with our award winning beer, explore a menu filled with freshly sourced Alaskan products, or relax on the rooftop patio overlooking the Cook Inlet and Alaska Range. Welcoming to locals and tourists alike, there's something for everyone to enjoy at the 49th State - Anchorage.
Reservations and Walk-Ins Welcome! Good For Groups. Family Friendly. Take-Out Available. Full Waiter Service. Outdoor and Patio Seating available as weather permits.
Dining Hours
Lunch: 11am - 4pm
Dinner: 4pm - 11pm
Late Night: 11pm - 1am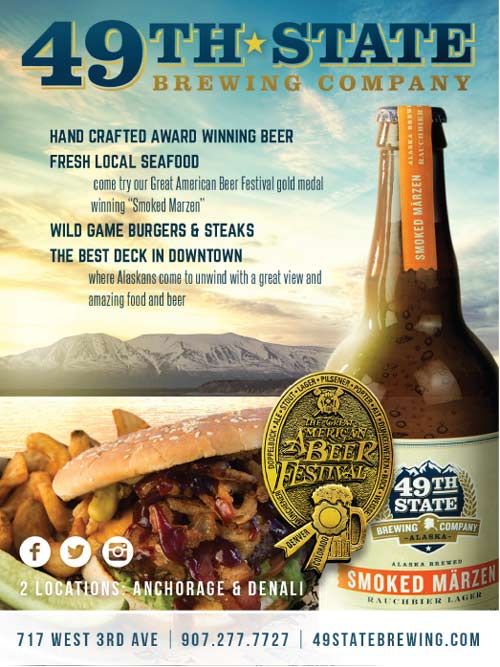 Hours:
Monday: 11:00 am - 1:00am
Tuesday: 11:00 am - 1:00am
Wednesday: 11:00 am - 1:00am
Thursday: 11:00 am - 1:00am
Friday: 11:00 am - 1:00am
Saturday: 11:00 am - 1:00am
Sunday: 11:00 am - 1:00am
Type of Meals Served:
Amazing beer friendly fare!
Payment Options:
Cash, Visa, MasterCard
Specials/Events
49th State Brewing Co. Anchorage
Every Day

NOW OPEN... Hello 49th State Brewing Company Located at 717 W 3rd Avenue, Anchorage, Alaska 99501…Read more
Report incorrect information