Brown Bag Sandwich Co.
Location & Contact:
535 W. 3rd Avenue
Anchorage
,
AK
99501
907-277-0202
Email Us
View our Website
View our Facebook page
Reviews from TripAdvisor Community
View our Online Order Form
Description:
Brown Bag Sandwich Co.
Local Sandwich Pub with Basement Bar
The Brown Bag Sandwich Company is a locally owned & Operated business with Alaskan values dedicated to providing a great eating experience. We aim to accomplish this by serving healthy sandwiches made with only fresh, high-quality ingredients. The results is a delicious sandwich made to order that our customers can take to-go or enjoy in our dining area.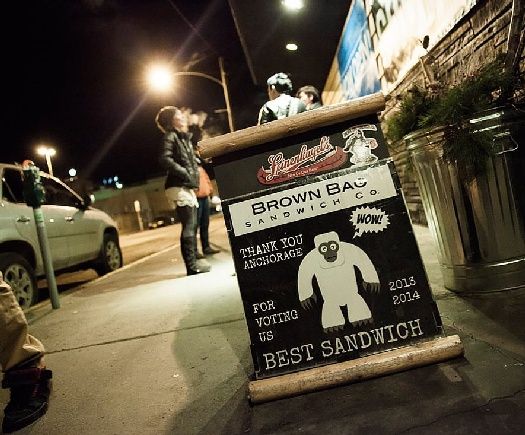 Here at the Brown Bag Sandwich Co, we are always environmentally conscious and are constantly seeking new ways t hat we can recycle and conserve. In additional, we strive to be an asset to our community by encouraging a healthy lifestyle and promoting active living. In the end, our ultimate goal is to be positive influence both on our customers and within our community.
Brown Bag Sandwich Co offers
Delivery
Catering
Dine-In
Take-Out
Box Lunch Options
(Includes: Drink, Chips, Pickle & Chocolate Chip Cookie) $12.00
Sandwich Platter Options
(feeds 10-12 People) $75.00/platter
Salads, Soups, Sides
Beverages
Bottled Soda
Hot Sandwiches
minimum $35.00 Order for Delivery
Advanced Notice is not required but appreciated for timely delivery.
Call 907-277-0202 or Fax 907-277-0204 in your Order
Hours:
Monday: 10:00 am - 2:00 am
Tuesday: 10:00 am - 2:00 am
Wednesday: 10:00 am - 2:00 am
Thursday: 10:00 am - 2:00 am
Friday: 10:00 am - 2:00 am
Saturday: 11:00 am - 2:00 am
Sunday: 11:00 am - 2:00 am
Type of Meals Served:
Box Lunch Options (Includes: Drink, Chips, Pickle & Chocolate Chip Cookie) $12.00

Sandwich Platter Options (feeds 10-12 People) $75.00/platter

Salads, Soups, Sides

Beverages

Bottled Soda

Hot Sandwiches
Price Range:
$$ up to 20 per meal
Payment Options:
Cash, Visa, MasterCard, Discover, American Express
Reservations:
Not Accepted
Report incorrect information