Kriner's Diner
Reviews
Location & Contact:
2409 C St.
Anchorage
,
AK
907-929-8257
Email Us
View our Website
View our Twitter page
View our Facebook page
View our Breakfast Menu
View our Lunch & Dinner Menu
Description:
Welcome to Kriner's Diner
My name is Andy Kriner, my wife Norann and I have 3 children, Drew, Lucy and Lucas, 3 grandkids, Azzur, Layton, and Max. Owning our own restaurant is the fulfillment of a lifelong dream. I started my restaurant career in Soldotna when my mom, Sally Hoskins started Sourdough sal's in 1979. I was 19 and managed Sal's until I was 30 years old. after a career at Pepsi Cola, I missed the restaurant business and went back to Sal's in 1998.
Seven years later we moved back to anchorage where I managed a large local restaurant for 5 and a half years. Recently, the opportunity of opening our own place came up and here we are. With the help of my wife, kids and other family members, we strive to make your dining experience a great one.
As you can see I am a Conservative at heart but welcome all political views at Kriner's Diner. Remember, God loves us all.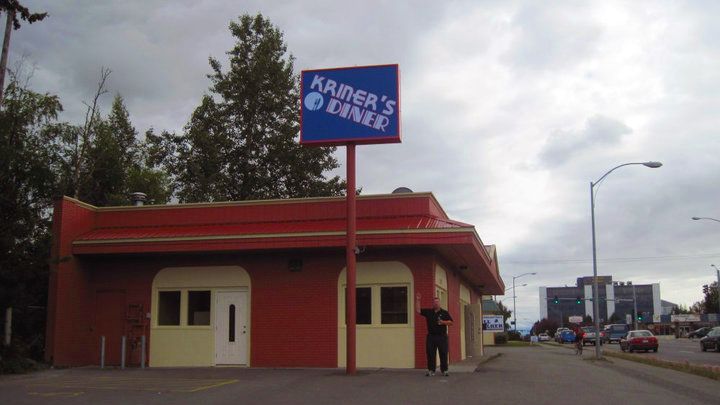 Hours:
Monday: 7:00am - 8:00pm
Tuesday: 7:00am - 8:00pm
Wednesday: 7:00am - 8:00pm
Thursday: 7:00am - 8:00pm
Friday: 7:00am - 8:00pm
Saturday: 7:00am - 8:00pm
Sunday: 8:00am - 5:00pm
Type of Meals Served:
The Best Family Restaurant in Anchorage!
Price Range:
$$ up to 20 per meal
Payment Options:
Cash, Visa, MasterCard
Reservations:
Not Accepted
Report incorrect information