LeSea Charters
Location & Contact:
Seward Small Boat Harbor Slip J-9
Seward
,
AK
99664
907-344-4388
Email Us
View our Website
View our Facebook page
View our Twitter page
Description:
LeSea Charters - Seward, AK
LeSea Charters is an Alaskan family owned and operated sports fishing charter out of the beautiful Seward, Alaska.
Fishing:
Halibut
,
Salmon
,
Rockfish and Lingcod
We also offer
Combo Fishing
.
Sightseeing: Glaciers, whales, sea otters and more!
More Details here
Give us a call and get Hooked on the Trip of Lifetime!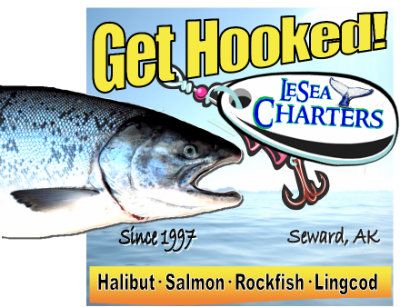 LeSea Charters on Field & Streams Hook Shots!



Dewayne Brantley, owner and operator of LeSea Charters began his saltwater career in 1959 operating Navy recreational fishing boats out of San Diego. He guided military service members in local as well as Mexican waters for yellowtail, tuna and bonito. Originally, he grew up fishing the murky waters of the Arkansas river for catfish, perch, bass, and sturgeon but the salt got in his veins.

In 1973, he made the trek to Alaska and began his adventure in some of the most bountiful and beautiful fishing waters in the world. Prince William Sound, Kachemak Bay and the North Gulf Coast as well as Kodiak all saw at least a few visits over the years from Dewayne. Sports fishing, recreational shrimping and crabbing were just a few benefits of living in the Last Frontier. Even a dive or two for herring roe has added to his Alaskan experience. In total, he has over 35 years of fishing and sharing the beauty of Alaskas waters with people. His daughter, Alicia, fished and worked beside him for a number of years and even brought the grandkids out to start the next generations of anglers.


"Its a blessing and an honor to share this great state
with family, friends and customers alike".
-Dewayne
Deckhand and Second Captain Alicia Lici Busick, has since left the charter industry to raise a family (procure future deckhands) and dabble with graphic design. Her time at sea began when she was knee high to an anchor and has enjoyed fishing/guiding customers from Alaska, Hawaii all the way to Mexico via San Diego. She worked aboard the party boats, Fisherman III & Malihini and enjoyed fishing the very same waters her father, Dewayne, started out with some 40 years earlier. She still assists with the company as an Administrative Assistant (aka land lubber) but occasionally can be seen strolling the docks.


This place (Alaska) is magical, and it will forever live in your heart when
you find its beautiful, well-kept secrets.
-Alicia
Hours:
Monday: 6 am - 6 pm
Tuesday: 6 am - 6 pm
Wednesday: 6 am - 6 pm
Thursday: 6 am - 6 pm
Friday: 6 am - 6 pm
Saturday: 6 am - 6 pm
Sunday: 6 am - 6 pm
Payment Options:
Credit, Visa, MasterCard
Report incorrect information