Alaska Botanical Garden
Location & Contact:
4601 Campbell Airstrip Rd.
Anchorage
,
AK
99507
907-770-3692
View our Website
View our Facebook page
Facility Rental & Weddings Page
Volunteer Page
Description:
Alaska Botanical Garden
Open Daylight Hours - all year long!
Alaska Botanical Garden is where northern horticulture and native plants are showcased throughout a 110 acre spruce and birch woodland in Anchorage, Alaska! The Alaska Botanical Garden is a public garden dedicated enhancing the beauty and value of plant material through education, preservation, recreation, and research. For information about our gardens, Volunteer opportunities, job openings, Board of Directors, workshops and more visit
http://alaskabg.org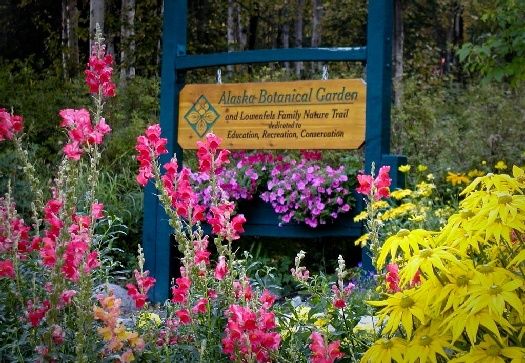 The Garden is located in Anchorage, just South of Tudor Road at 4601 Campbell Airstrip Road, adjacent to Far North Bicentennial Park. Bordering the Garden to the East is the north fork of Campbell Creek, which has a summer Chinook (King) salmon run. Chugach State Park is nearby.
The Gardens & Trails
With over 1,100 species of hardy perennials, and 150 native plant species, the Alaska Botanical Garden is the place to experience the abundance of the summer sub-arctic growing season and to learn about flora native to Southcentral Alaska.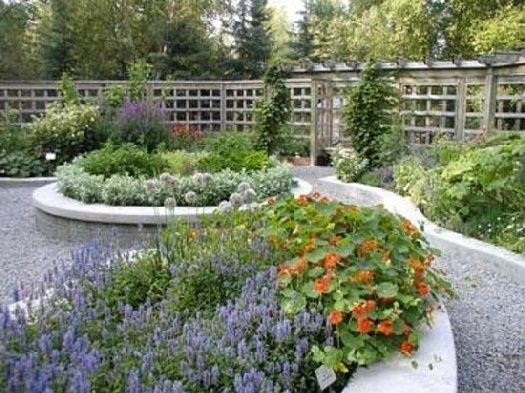 From May through September (and occasionally into October) you will find flowering plants and shrubs in two perennial gardens (Lilies Garden and the Lower Perennial Garden), a formal Herb Garden, an alpine Rock garden, and a Wildflower Trail. A new Anchorage Heritage Garden is nearly complete just in time for the Anchorage Centennial in 2015. The Lowenfels Family Nature Trail and Forest Health Trail offer easy opportunities for day hikes, with the potential to glimpse wildlife.
Garden Admission
Winter Admission Rates:
September 13th - May 11th
Adult - $7
Child - $5
Children 4 and under - Free
ABG Members - Free
Summer Admission Rates:
May 12th - September 12th
Adult - $12
Senior, Military, Student - $10
Children 5 - 17 - $8
Children 4 and under - Free
Members - Free
Gift Shop & Nursery Hours
September 15 - June 1:
Monday - Friday 10 am - 5 pm
June 2 - September 14:
Daily, 10 am - 6 pm
Please note that these hours only apply to the Gift Shop, Nursery and Office. The garden is open daylight hours, seven days a week.
Hours:
Monday: 10:00am to 5:00pm (winter hours - through June)
Tuesday: 10:00am to 5:00pm (winter hours - through June)
Wednesday: 10:00am to 5:00pm (winter hours - through June)
Thursday: 10:00am to 5:00pm (winter hours - through June)
Friday: 10:00am to 5:00pm (winter hours - through June)
Saturday: Closed.
Sunday: Closed.
Payment Options:
Cash, Visa, MasterCard
Report incorrect information