Anchorage Concert Association
Location & Contact:
430 W. 7th Ave. Suite 200
Anchorage
,
Alaska
99501
907-272-1471
Email Us
Visit our website
View our Facebook page
View our Twitter page
Sign up for ACA Emails!
ACA Ticketing & Seating Charts
Description:
Anchorage Concert Association - ACA
ACA is proud to announce the 2016/2017 Performance Season! Our mission is to promote and maintain performing arts excellence in the community and we carry that tradition proudly through this season! We are thrilled to present this year's ACA Lineup -
Click here to view the full season schedule
or log on to www.anchorageconcerts.com for all the information.
Save on your ACA event tickets - Subscribe today!
Call 272-1471 or order online with
ACA iTicket
online here. Link for app users: www.anchorageconcerts.org/subscribe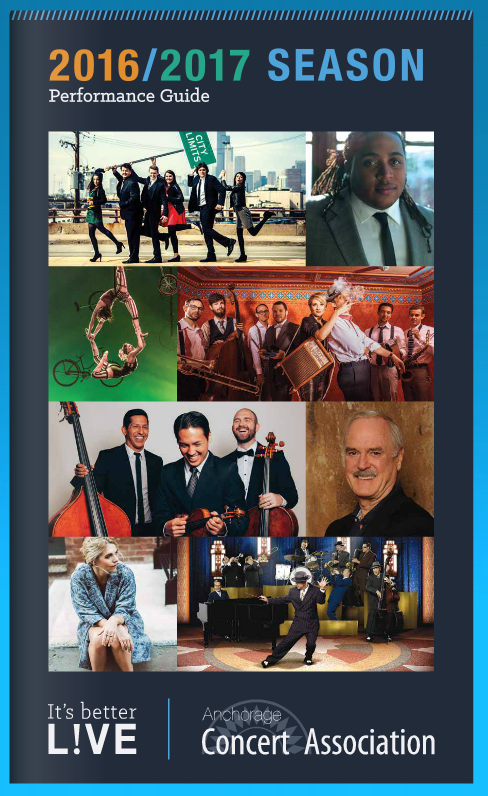 The Anchorage Concert Association, a non-profit corporation, was founded in 1950 by a group of classical music enthusiasts committed to bringing the finest classical performing artists to perform for the people of Anchorage.
Today, our purpose includes presenting internationally acclaimed artists from the entire spectrum of the performing arts in Alaska. Our public performances and education and outreach activities entertain, uplift, educate, and inspire audiences, students, and local artists.
We believe the arts benefit everyone.Therefore we strive to provide access and exposure to a broad spectrum of the population and also to those who might not otherwise be able to attend arts events.
Since 1950 the Anchorage Concert Association has presented more than 700 performances of the world's finest music, dance and theatre. Our small staff handles everything from selecting artists and presenting productions to marketing the events and raising additional funds necessary to cover all the costs. Our volunteers provides behind-the-scenes assistance that makes our season a success.
The Anchorage Concert Association is the largest performing arts presenter in Alaska and acts as an anchor in the touring schedules of artists as they come through the Northwest. Our yearly audience is the largest for fine performing arts in the state. They come from Greater Anchorage, Mat-Su Valley, Kenai Peninsula and even as far away as Barrow. More than 75,000 people of every age, income level and cultural background will attend an Anchorage Concert Association performance during the coming season.
ACA's fiscal health is reflected by the fact that 75% of each season's budget, currently $4 million, is earned through ticket sales. The balance comes from community minded businesses and individuals, with less than 3 percent from government grants. Contributions to ACA keep ticket prices affordable and support artist fees, shipping and transportation costs, education programs and operations.
Hours:
Monday: Office: 9:00am - 5:00pm
Tuesday: Office: 9:00am - 5:00pm
Wednesday: Office: 9:00am - 5:00pm
Thursday: Office: 9:00am - 5:00pm
Friday: Office: 9:00am - 5:00pm
Saturday: Closed
Sunday: Closed
Payment Options:
Cash, Check, Credit
Report incorrect information