Ellison Air
Location & Contact:
4500 Wisconsin
Anchorage
,
AK
99519
907-243-1959
Email Us
Visit our website
View our Yelp Reviews
Description:
Ellison Air
Ellison Air has always been to provide the best tours and personal service available. We are the only sea plane operation in Anchorage that strictly specializes in Air Tours and we feel this allows us to offer a superior product. Our aircraft was specifically chosen with safety, comfort and optimum viewing in mind. Noise reducing headsets with intercom are provided to each passenger allowing narration and communication throughout each flight. As we do not have to haul gas, propane, trash, fish or game inside our aircraft as other operators do; our plane is always clean, neat and free of smells. Our pilots are extremely experienced and knowledgeable with more than 45 years of living in Alaska and 30 plus years flying in Alaska. At Ellison Air we truly enjoy sharing Alaska with others our love and pride of Alaska is evident in each and every tour we conduct.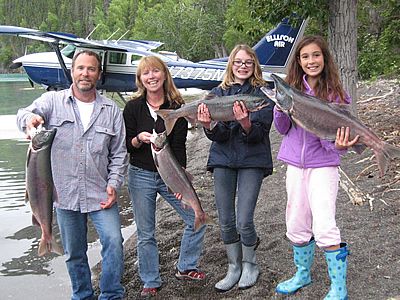 -Personal Service-
Ellison Air is a small, caring Alaskan family operation. We are committed to providing the finest Air Tours available & sharing our knowledge of Alaska's history, geography, folklore, & wildlife. Even though yours may be a party of two, we will be selling additional seats on the aircraft so you may receive the 3 - 5 person price. If you have a family of 4 or more, to contact us for family discounts.
-Experienced Pilots-
Ellison Air pilots have lived and flown in Alaska for more than twenty five years. They are proud to call this "Great Land" home.
-Specialized Aircraft-
Ellison Air seaplanes are specially equipped and meticulously maintained. All passengers are given a window seat and a voice activated headset to assure quality narration and communications with your pilot/guide.
Flightseeing Tours
Reboubt Bay Bear Viewing - $450 Each:
Enjoy the experience of seeing bear in their natural habitat. Fly 75 miles S.W. of Anchorage to the entrance of Lake Clark Wilderness Preserve. This 50 minute scenic flight provides viewing opportunities to see Beluga Whales, Moose, Seals, several active volcanoes and the native village of Tyonek. Upon landing your pilot/guide will take you via boat to the bear viewing grounds. Call for availability.
3-5 Pax $450 ea.**
Chugach State Park Tour I - $150 Each:
This is the perfect Air Tour for those who want to see the maximum amount of scenery and wildlife in a minimum amount of time. In just over one hour, we can show you just that! See magnificent glaciers unfold before you, as we fly in the Chugach State Park in search of wildlife.
3-5 Pax $150 ea.**
Chugach State Park Tour II - $200 Each:
This is an extension of Chugach #1. The tour takes approximately one and one half hours and enhances the opportunity to view more wildlife and extends the experience of the glacier environment.
3-5 Pax $200 ea.**
Extensive Glacier/Wildlife Tour - $250 Each:
This 2 hour tour combines viewing one of Alaska's most scenic regions with an opportunity to spot a large variety of wildlife. You will marvel at the massive icefields and glaciers. Spot moose, dall sheep, caribou, mountain goats, bears, and beluga whales in their natural habitat.
3-5 Pax $250 ea.**
Mt. Spurr Tour - $250 Each:
Enroute to the Mt. Spurr region, we look for moose, bear and beluga whales. We'll explore one of the many glaciers that descend from this volcano. Enjoy the photo stop on a remote lake, an area frequented by bald eagles and spawning salmon. Approx. 2 hour tour.
3-5 Pax $250 ea.**
Mt. McKinley Tours - $375 Each:
This 3 hour tour is for those wanting to take an extensive tour of Mt. McKinley. We will traverse the south face of the mountain, showing you the famous Ruth and Kahiltna Glaciers. You will also see the Don Shelton Amphitheater, the Tokositna Valley, Mt. Hunter, Mt. Foraker, and the base camp for the climbers that will begin their assent to the top. A Photo and rest stop are included in this tour.
3-5 Pax $375 ea.**
Prince William Sound Tour - $325 Each:
In our 2 1/2 hour tour we'll explore a large area of the sound in search of marine life (i.e. sea otters, sea lions, seals, eagles, whales, and black bears). Also view the world's largest fish hatchery, the Prince William Sound fishing fleet, ancient fox farms, oyster farms and beautiful water falls.
3-5 Pax $325 ea.**
Susitna River Tour - $150 Each:
Spend an hour flying along the Susitna River drainage looking for Seals, Moose, and Beluga Whales. We'll also show you some of the homesteads, fish camps and a section of the Iditarod Trail. All of this lies in the shadows of "Sleeping Lady", MT. Susitna.
3-5 Pax $150 ea.**
Local Seaplane Ride - $75 Each:
This inexpensive flight is especially designed for the person who is short on time. Within 30 minutes you can experience the thrill of taking off and landing in a floatplane. Wildlife is often seen.
$75 ea. w/3 pax min.**
Cancellation Policy**
Ellison Air will accept a Visa, Master Card or Discover credit card number to confirm your booking. If you need to cancel and fail to do so 48 hours prior to departure, there will be a 50% cancellation fee. There is no cancellation fee if cancellation is due to weather or other acts of nature. Ellison Air reserves the right to make changes and alterations to any tour as may be necessary for safety.

If Ellison Air has contracted another guide service or air taxi on your behalf, we will honor their cancellation policy as well.
*All flights are 3 passenger minimum.
Photo credits: John Gomes
Hours:
Monday: SEASONAL May-Sept
Tuesday: SEASONAL May-Sept
Wednesday: SEASONAL May-Sept
Thursday: SEASONAL May-Sept
Friday: SEASONAL May-Sept
Saturday: SEASONAL May-Sept
Sunday: SEASONAL May-Sept
Payment Options:
Cash, Visa, MasterCard
Report incorrect information