Diamond Airport Parking
Location & Contact:
5401 Northwood Drive
Anchorage
,
AK
99502
907-677-7275
View our Website
View our Facebook page
Join our Preferred Travelers Club
Description:
Diamond Airport Parking
Diamond Airport Parking - Anchorage is a premium offsite airport parking facility, conveniently located just 5 minutes away from the Anchorage International Airport. We are open 24 hours a day / 7 days a week with continuous on-site security.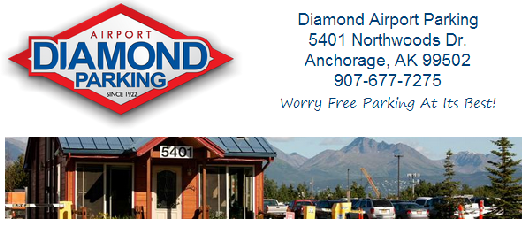 Our friendly Car to Curb service includes:
~FREE Shuttle
~FREE Newspaper
~FREE Bottled Water
~FREE Baggage Assistance
~FREE We Care Program
~Covered parking with plug-ins available
Contact Us
to see if your company has a airport parking discount program in place with us. We offer long term parking with monthly or seasonal options as well as short term parking with our daily parking rates for your convenience.
Corporate Travelers Program

Diamond Airport Parking's Corporate Travelers Program Introduces Key Cards to their Customers!
Anchorage, AK- March 2016 – Diamond Airport Parking has added another useful benefit for their business travelers by adding key cards and reserved parking spaces to the program.
The key cards will reduce wait time upon returning as customers who obtain key cards will be able to depart in the key card lane without having to wait to cash out with the cashier. The standard key card is for the client who wants a flat fee every month with unlimited parking. The standard card is auto billed the month prior of parking usage. This is a perfect program for businesses that have five or more frequent travelers and would like to eliminate employee reimbursement.
An added bonus, businesses may reserve parking spaces in the Diamond Parking lot which will eliminate added driving time looking for a parking space.
For more information on Diamond Airport Parking's Corporate Travelers Program with Key Card please contact:
Jaime Kay Lozada, Marketing Director
jaime.lozada@diamondairportparking.com
907-297-8556
Report incorrect information